Alpaca Duvet - SINGLE - 100% Alpaca-Fill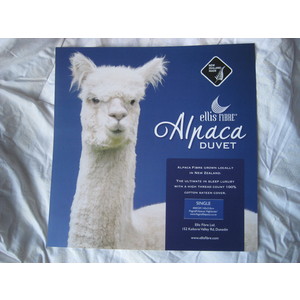 Buy Online Now
Alpaca Duvet - SINGLE:
$210.00
Out of stock
Our Luxury Alpaca Quilt is filled with natural 100% alpaca fleece - authenticity certificate for the 100% alpaca-fill is included with the duvet - from our alpacas and those of friends of Flagstaff Alpacas from throughout New Zealand and Australia. The light, clean alpaca fibre offers a superior warmth, is light in weight and is moisture absorbent; the quilts are seasonally comfortable in winter or summer thanks to those qualities. That warmth claim has been independently tested on alpaca duvets in Australia showing alpaca duvets to be 18-25% warmer that their wool equivalents.
The hypoallergenic properties of your Alpaca Duvet: for a comfortable nights sleep the alpaca fleece and cotton outer are hypoallergenic – this means the triggers for those susceptible to breathing or skin issues, such as asthma, eczema, skin rashes and breathing difficulties, are less likely to 'cling' to the clean, smooth–scaled, alpaca fibre or the fine sateen cotton outer. Try handling alpaca fleece and feel that softness of handle – common allergy triggers such as pollens, mites, moulds and spores are less likely to be hosted on these smooth fibres - again a better choice for a comfortable night's sleep.
Duvet Outer: The alpaca fleece filled quilts have a gorgeous, bright-white, 100% sateen cotton outer and the linen is over 290 stitch count. The alpaca fleece uses white and light cream fleece that is below 35 micron and not bleached – fibre length from two to twenty centimetres. We work in partnership with Ellis Fibre Limited, Dunedin - better known as 'Novadown' - to produce this luxury New Zealand alpaca duvet.
Warmth Grade of your Alpaca Duvet: The duvets come in a number of fill grades: this duvet is the 'Flagstaff Alpaca Highlander' with 400 grams per square meter of alpaca fill!
Care instructions: Airing regularly is the most important way to keep your quilt warm and fresh. For cleaning treat the alpaca-fill as you would the fine cotton sateen outer – our alpaca duvet is safely designed to be dry cleaned.