Latest News Items and Site Updates!
- Alpaca Large Herd Sale - details on our Alpaca News page. For the Sales Document please see: 'Flagstaff Alpacas Herd Sale'.

- For those looking for smaller alpaca herd groups or individual alpaca stock there are still a number of options on our Alpacas For Sale pages - young alpaca males, tui females & pregnant females - due this summer.
- We will be at the Gore A&P Show on Saturday 7th February 2015 with our alpacas and our alpaca product! Beautiful Showgrounds!
- Our next Alpaca Open day is Sunday 15th February 2015. Free entry - more details on our Alpaca News page.
- Alpaca farmstay motel accommodation availability? Check our accommodation page!
For more details & Alpaca News: select this link!
Last Update: 24 January 2015
GONDWANA KITS, DIARY, Alpacas for SALE!
Please check these pages for those updates!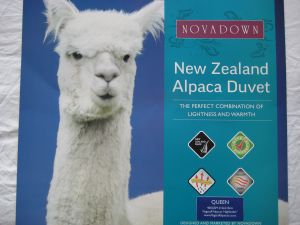 100% Alpaca-Fill Duvet (Quilt or Doona)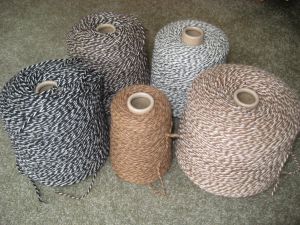 Selection of our MARL Yarns in natural colours

Welcome to Flagstaff Alpacas, Dunedin, New Zealand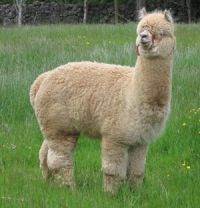 Flagstaff Alpacas: 'home of the Wonderful Alpaca' have been breeding alpacas and creating alpaca products in, Dunedin, Otago, New Zealand since 2001. As our passion for these wonderful animals has developed we have also developed a successful business for this lifestyle through alpaca sales, alpaca products, such as our alpaca duvets and yarns, and a variety of alpaca services supported by our 'Alpacamobile' transport.
And we chose "Wonderful Alpacas" because that sums up these guys as they are really 'wonderful' to farm. Visits are welcome to meet our alpacas and see our alpaca products by appointment - please make contact. For alpaca farming information try our FAQs page!. Picture is one of our working alpaca stud boys 'Enrico!'.
We are syndicate members in Bruce Woollen Mill where our alpaca yarns are processed.
Meeting our Alpacas
Visits and visitors are always welcome! We do have Alpaca Open Days through the year or make contact with Andy for visits by appointment!
We are farming our alpacas around Dunedin and on the Otago Peninsula if visits in those locations are preferred.
Follow us on Twitter '@AlpacaNZ', Instagram 'flagstaffalpacas' & Facebook!