"Unique Otakou cottage on the Otago Peninsula" - Harington Point Road, Otakou
Our Otakou cottage is on the Otago Peninsula and a short drive to the Albatross Colony and various Peninsula attractions. The cottage is three rooms and bathroom with a heatpump and box fire so visitors are cozy warm while taking-in the stunning views from our front windows.
Details: Digital TV with DVD, kitchenette with microwave/convection oven, portable cooker, rice and slow cookers, and BBQ outside. No WiFi but good cellular mobile reception. Queen bed in main bedroom, quality pullout couches in two other rooms; large kitchen area, very large lounge with enclosed fire in lounge, as well as large heat pump for cooler days. The bathroom has been updated with a new shower and vanity/sink area but remains typical of a holiday home by the beach and sea!
Location, location, location: Very private the view, location and cozyness of the cottage are its attractions. A picture does not capture the beauty of the area, or the views from the Cottage so take our word .... you will be amazed and transfixed by the view from our front window!
Pictures: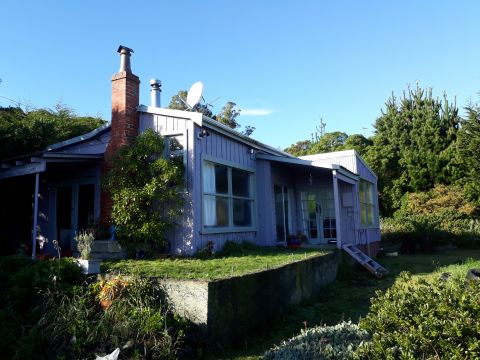 Our Otakou Cottage on the Otago Peninsula - winter's day picture