Hadstock QUE CEE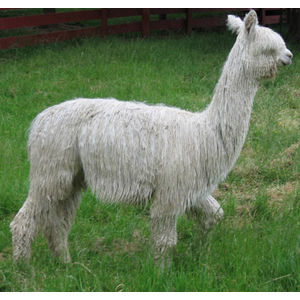 Buy Online Now
Que Cee Mating Fee ($500+GST):
$750.00
Add to cart
Que Cee ... 'QC' ... is our solid white suri boy (IAR: 84244 - born February 2005) certified in mid-2006 and now with his first 15 progeny on the ground - all suri! QC has a gorgeously rich, silky, bright white fleece with tight rolling locks through that fleece. QC progressed to stud male status in good time as he grew-out quickly over summer 2006 and now is a dominating, solid, well confirmed male amonst our stud male herd. He typifies that suri look - an upstanding young male whose movement and fleece glide across the paddock when he bundles around with the rest of the boys.

Our other attraction to QC is his bloodlines - basically his parentage is recognisable in all his lineage. His father is Cedar House Prince of Stars, himself a Amador-Senator parented sire recognised through New Zealand and Australia. His mum, Te Kanawa, is a Cedar House Raphael girl and her mum, Kiri, was imported from America. QC is already stamping his pedigree across our herd!

Price: $500+GST at Flagstaff Alpacas or mobile and on-farm mating's, and we offer multi-mating packages and lease options.