Pinjarra MONEYMASTER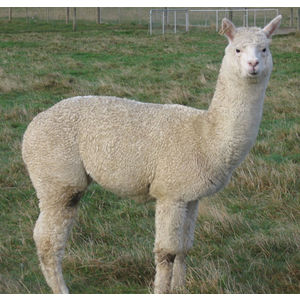 Buy Online Now
Moneymaster Mating Fee ($400+GST):
$460.00
Add to cart
Money Master (IAR: 97082 - born December 2004) is simply packed with fleece. Having started working in early December 2007 this boy has a deeply crimped dense fleece that shines brightly when forcibly opened to the sun. Probably likely to take Mitch's title as our 'fleece-monster' Money Master has matured into a giant amongst his fellow young males. And you are welcome to come looking for guard hair in his fleece ... there simply isn't any space for any!

Money Master is sired by Snowmaster, himself notorious in Australia for the volume of fleece he produces. Mum is Pinjarra Money Penny, an Ayaviri, El Dorado, Domino and Bathsheba female. Highly regarded genetics alongside an obviously well framed and well covered stud male - and he's not yet two!

If its fleece volume, fleece brightness and definition, and solid confirmation on a big frame you are looking for then Money Master is a strong candidate. No trimming Money Masters brisket: Remember the lack of medulated fibre across the fleece adds to Money Masters strengths.
Fleece:

December 2013 (aged 8 years): Mean: 27.2, SD 5.5, CV 20.2, Comfort Factor: 76%. Still very heavy fleeces!

Dec 2012: Mean 27.4, SD 4.8, CV 17.4, CF 76%, Curve 35º. VERY big fleece!
Dec 2011 fleece: Mean 26.3 micron, SD 4.8, CV 18.2, CF 82%.
Dec 2010 fleece: Mean 24.7 micron, SD 4.9, CV 19.7, CF 89%.
Dec 2009 fleece (aged 4 years): Mean 24.4 micron, SD 5.6, CV 22.8, CF 87%.

3rd Test (Oct 2007): Mean 23.8 micron, SD 5.3, CV 22.2, CF 90%.

2nd Test (June 2006): Mean 22.5 micron, SD 4.3, CV 19.1, CF 95%.

Price: $400+GST at Flagstaff Alpacas. We encourage mobile and on-farm mating's, and offer multi-mating packages.