Tabourie BEN ELVIS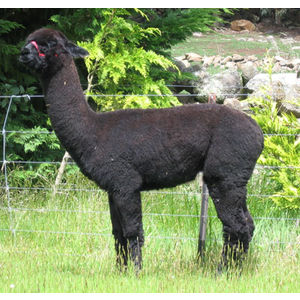 Buy Online Now
BEN ELVIS Mating Fee ($500+GST):
$1,000.00
Add to cart
Tabourie Ben Elvis (IAR: 68919) ... 'ELVIS' ... is a solid black male imported from Australia in April 2005. With Julius and Highlander combining on his father's side, and Benleigh Raven, Rave, Briony II and Ebony II on his mum's side, Elvis is a soft fleeced black guy with excellent coverage, as you would expect. His Mum's recent eight year fleece stats (given below) were another reason for our choice of Elvis and an expectation that softness and definition will continue in his fleece.

Ben Elvis has proved a very reliable stud - if he mates the girl his pregnancy success to that mating has been very high. He now has a number of cria and most carry his solid confirmation ... and long eye lashes! Scientific ... no ... but the reality is he does seem very reliable and it, statistically, does seem significant!

Hopefully our fleece photograph demonstrates that blue-black brightness and softness of crimp, and our lead photograph his bearing and alertness. Working already Elvis's fleece details for his current fleece are below ... still excellent! Come over and feel that genuine softness ... luv' that colour!

Fleece:

2nd Shear (October 2004 in Australia): Mean: 21.2, SD 5.1, CV 22.4. Dam of Elvis, Benleigh Briony II, was: Mean 24.3, SD 6.6, CV 27.2, aged 8 years in Oct 2004.

3rd Shear (October 2005): Mean: 22.8, SD 5.2, CV 23.0 Comfort Factor: 92%.
December 2010 (aged 8 years): Mean: 24.8, SD 6.2, CV 24.9 Comfort Factor: 84%.
December 2011: Mean 25.8 micron, SD 6.3, CV 24.3, CF 80%.
December 2013 (aged 11 years): Mean 25.1 micron, SD 5.9, CV 23.6, CF 82%. Remember this guy is black!

Price: $500 + GST at Flagstaff Alpacas. We encourage mobile and on-farm mating's, and offer multi-mating packages.