Ambersun AMARETTO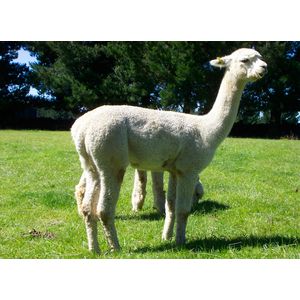 Buy Online Now
AMARETTO Mating Fee ($800+GST):
$920.00
Add to cart
'Ammers' IAR: 49319 - DOB: 16 Nov 2001, the New Zealand National Alpaca Show Champion Senior Male Huacaya 2004, is an upright, very well covered, densely fleeced male. His soft, crimpy fleece is reflected in his fleece statistics, and his success in the show ring. And his first cria, Judy, has a head, confirmation and fleece the mirror-image of her father. And girls it seems to be, with 9 of 10 births sired by Ammers at Flagstaff Alpacas being females! Watch this space...

His bloodlines drive that fleece and solid confirmation. With his first offspring due in late December 2004 he will shortly stamp his lines, density and softness on the New Zealand herd. And he is cute with it, a gentleman amongst our herd as he runs during visits in the paddock with his girls.

Ammers, the Senior Champion Huacaya at the AANZ National Show in October 2004, has also been recognised in Australia with a number of class and Championship successes to his name. His most recent success was Reserve Senior Champion at the Canterbury A&P, behind a ten-year old fawn male ... age over beauty?

Fleece:

2002 Shear: Mean 20.1 Micron SD 3.5, CV 17 [in Australia].

September 2004: Mean 23.0 Micron SD 4.9 CV 22.

Shorn January 2005, aged 38 months: Mean 23.5 Micron SD 4.9 CV 21 Curve: 42.5, CF:92%

2008 (aged 7 years) : Mean 26.2 Micron SD 5.3 CV 20.4 Curve: 37, CF:81%
December 2013 (aged 12 years): Mean: 25.4, SD 5.8, CV 23, Comfort Factor: 85%.

Price: $800+GST - agistment at Flagstaff Alpacas included. Mobile matings by negotiation. Ammers is jointly owned with Windermere Alpacas, Milton.