Somerset OTTOMAN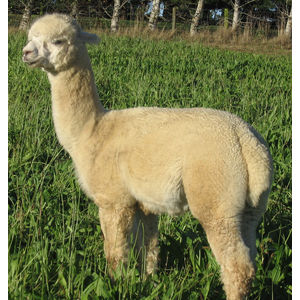 Buy Online Now
OTTO Mating Fee ($300+GST):
$345.00
Add to cart
'Otto' ... Ottoman IAR 49001 ... our fibre monstor loves " the chicks" but is not so happy in the Show Ring ... prefers to sit and watch rather than join the other 'paca being judged. The proof is in the pudding I guess but his Show results should imply the quality of his offspring.

In the Show ring Otto, despite a little stage fright, was second in the 2002 Canterbury Junior Male class, and first as an Intermediate Male at the Malvern A&P. His second fleece, in 2004, was 1st in class at the Auckland Royal Easter, 1st at the AANZ National Show 2004, 1st at the Manawatu A&P and overall Champion Huacaya fleece at the Malvern A&P. But his biggest success was Reserve Senior Huacaya at the AANZ National Show 2004 - plenty of 'paca in that line-up for Otto to have shown his quality!

A fun lover he is very comfortable with us humans as he does like a good neck tickle ... and a hand-full of nuts! Be warned you will love his mannerisms!

Fleece

1st Shear: Mean: 21.1, SD 4.6, CV 24.2, weight 3.1 kg.

2nd Shear: Mean: 22.3, SD 4.0, CV 18.1, weight 3.8 kg.

3rd Shear: Mean: 25.8 SD 5.1, CV 19.7, weight 4.3 kg (shorn in the winds at the North Otago Show)
December 2010: Mean 28.9 micron, SD 6.2, CV 21.3 -just come and see how crimpy it remains!.
December 2013 (aged 11 years): Mean 27.7 micron, SD 5.7, CV 20.5, CF 70%.

Price: $300+GST at Flagstaff Alpacas. We encourage mobile and on-farm mating's, and offer multi-mating packages.